Invisalign braces are a transparent alternative to braces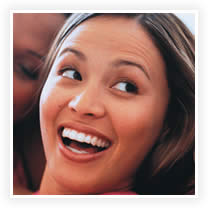 Invisalign braces are the best way to
straighten teeth
and
improve your smile
. As a leading Invisalign provider,
Salt Lake City dentist Allan Thomas
can answer your questions and help you determine whether Invisalign treatment is right for you. Sometimes called "clear braces", Invisalign uses clear, plastic aligners that fit over your teeth to gently straighten your smile. Unlike braces, which are bonded to your teeth and remain permanent until your treatment is over, Invisalign clear braces are
completely removable at any point
. Take Invisalign out to play sports, brush your teeth, or have dinner. With Invisalign braces,
you do not have to worry
about poking wires or uncomfortable metal brackets, like you do with traditional braces. That's because Invisalign is made of an advanced thermoplastic material that fits smoothly over your teeth.
WANT TO IMPROVE YOUR SMILE?
GET A SMILE VIRTUAL CONSULT
Invisalign braces vs. metal braces
When patients want to correct crooked teeth, they no longer have have to choose traditional metal braces, with their obvious brackets and wires. Invisalign clear braces are not only nearly invisible, they are also easier to manage with your busy lifestyle. Advantages of Invisalign braces include:
| | Invisalign | Traditional Metal Braces |
| --- | --- | --- |
| Clear | YES Invisalign clear braces are made of a clear plastic material that is hardly noticeable. | NO Metal braces stand out and are the first thing people notice about your smile. |
| Brushing & Flossing | YES Remove Invisalign braces to brush and floss, just as you have always done. | NO With braces, you have to brush around brackets and feed floss between wires just to reach between your teeth. |
| Eating | YES Remove Invisalign clear braces to eat and drink. After your meal, put Invisalign back on. | NO Food sticks between brackets and wires causing embarrassing situations. |
| Comfort | YES Invisalign is smooth plastic that is custom-fitted to your unique smile. | NO Wires poke into gums; brackets rub against lips. |
| Treatment | YES Invisalign braces treatment is often shorter and less invasive than traditional braces. | NO Braces require years of commitment and adjustment. |
Interested in more? Learn
how Invisalign works
.
Or contact Dr. Allan S. Thomas in Salt Lake City, Utah via our online form or by calling 801-322-4900.