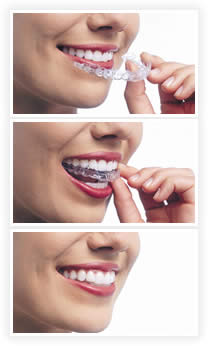 The Invisalign clear braces system starts with a customized and individualized plan to straighten teeth. Though others may not be able to tell you are wearing Invisalign clear braces, your teeth will know. The clear braces are actually a series of clear aligners. Each Invisalign aligner is slightly different from another but has a specific role in the process to straighten teeth.
Our patients wear an Invisalign aligner for two weeks at a time. After two weeks, you will switch to the next Invisalign aligner. During that time, you can remove these clear braces to eat and drink, and brush and floss.
Each two-week treatment will gradually move your teeth into alignment until you are ready for the next two-week aligner.
About every six weeks you will visit our office to ensure the Invisalign clear braces treatment is coming along as expected.
Most complete treatments run about a year – about half the time of traditional metal braces. Because the Invisalign clear braces treatment process differs from person to person, Dr. Thomas will work with you to ensure your Invisalign treatment plan is specifically designed for your perfect smile.
Find out whether Invisalign is right for you.
Or contact Dr. Allan S. Thomas in Salt Lake City, Utah via our online form or by calling 801-322-4900.