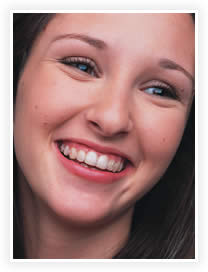 Invisalign braces are an effective treatment to achieve straight teeth for most of our patients. Invisalign braces can correct most of the following orthodontic concerns:
Crowded Teeth | You may have more teeth than can fit normally in your jaw. Crowded teeth can eventually cause damage by rubbing and pressing against one another. Invisalign braces can help coax teeth into a straight alignment and prevent damage.
Widely Spaced Teeth | When teeth are missing, or when teeth have shifted because of extra space, unsightly gaps can occur in your smile. Invisalign braces can be used to narrow the gap between teeth and restore a perfect smile.
Crossbite | Misaligned teeth can, over time, damage teeth and become quite painful. When upper and lower jaws are out of alignment, Invisalign braces help correct the problem.
Overbite or Underbite || You can develop serious long-term dental pain and joint concerns if your top or bottom jaw protrudes more than normal in an overbite or underbite. Invisalign braces can pull this alignment back in place, correcting wear and tear to your teeth and jaw.
Invisalign can help a variety of mouths. Check out some real patient cases in our Invisalign braces treatment gallery. You will be amazed at the resulting straight teeth knowing where the patients started from.
Or contact Dr. Allan S. Thomas in Salt Lake City, Utah via our online form or by calling 801-322-4900.